Last night I hustled down to the
Red Dot Art Fair
& its companion,
Korean Art Show
, in Soho to take advantage of the free entry night (take a lesson, Armory). I'm happy to say they are both better shows than the Independent, my
previous evening's destination
, but also duller. I found myself having (not for the 1st time) an internal dialogue debating what's worse: actively bad art or competently dull art. Like a Zen riddle, I doubt I'll ever answer that one, but I'm absolutely certain I will be presented with myriad opportunities to consider it further.
These are the artists who stood out for me:
Tim Lovejoy
I loved his pastel drawings of Tibetan monks. I'm not sure if these were drawn from life or from photos, but his gestural work is amazing.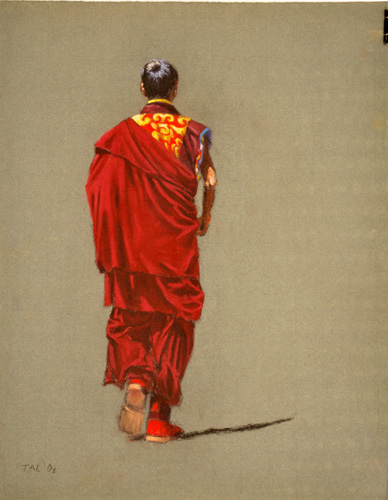 Tim Saternow
(from
George Billis Gallery
)
Breathes new life into the gritty urban landscape painting, which ain't no easy feat. Part of his success, I think, lies in the use of watercolor, an unexpected & surprisingly effective medium.
Also worth checking out from this gallery:
Stephen Magsig
&
Alex Roulette
. Clearly, they specialize in realism.
Edward Walton Wilcox
(from
Lurie Gallery
)
I'm not even sure how to categorize this guy, which I always like. Kind of pop, kind of goth, but not so easily dismissed as either. The 2 works on display were in
bitumen
, an almost unheard of medium. It's basically asphalt -- how this is used as paint, I couldn't begin to explain. Looking at his work at a book the gallery rep had on hand & now online, I'd say Wilcox was the strongest artist I saw yesterday.
Lastly, at the Korean Art Show to , I found myself completely charmed by the glass-&-moss sculptures of
Jae Hi Ahn
:
Next up,
Pulse
!