My 3rd (& final) day of visiting the satellite art fairs brought me to both
Pulse
&
Scope
. I've been anticipating Pulse the most; it's traditionally my favorite, & happily, it didn't disappoint, but Scope is giving it a run for its money. I'd never been to that one before, & color me impressed. Great stuff at both, so let's get to it.
In refreshing contrast to days 1 & 2, I'm finding myself needing to edit out many of artists I made note of at Pulse & Scope. In the interest of not driving away my busy readers, I'm limiting this list to the top 3 at each fair....
PULSE
1)
Megan Olson
I'm showing one of her drawings here, since that's what pulled me in, but click on her name to check out some of her paintings, too, which take this same idea to a much groovier level.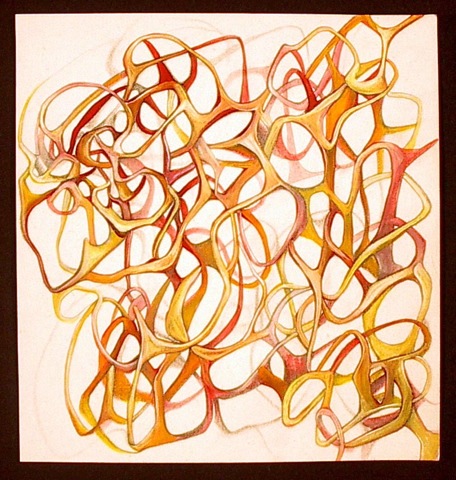 2)
Gregory Euclide
His 3-D painting-to-sculpture pieces really jumped out at me, though I couldn't actually tell from them whether he knows how to paint. After checking out his website, though, color me satisfied. As usual with 3-D works, photos don't do them justice, but you get the idea.
3)
Amy Casey
She has about a million of these, almost all on paper. J'adore.
SCOPE
1)
Ziwon Wang
His hypnotic mechanical Buddhas could have kept me rooted in place the entire afternoon, if the overwhelming size of the fair hadn't kept me moving. Perhaps the most riveting stuff I saw anywhere this week (though I realize, as a Buddhist, my perspective is skewed). I was hoping to find an example of one of them in motion on youtube, but alas, just imagine almost every piece of this in constant, gentle motion, & you'll get the measure if it.
2)
Hector de Gregorio
I wasn't able to find much about this artist online, which I find strangely admirable, but I really liked his portraits, some mix of photography & other printmaking techniques, with lush results.
3)
Marion Peck
I thought her work looked familiar, not dissimilar from
Mark Ryden
, but when I investigated & realized she was a Seattle-based artist, I remembered having seen her work before. I enjoyed
Sloan Fine Art's
entire booth devoted to her.
There you have it, 5 art fairs in 3 days, & I'm able to fantasize that I've taken some measure of the international art world's temperature. Looking forward to doing it all again in 2012.